Hi!
So, I decided to upload all Urajani I have... If someone have the ones I'm missing, please upload for me? Please? *puppy eyes* I really want them, they have some interesting subjects I would love to see.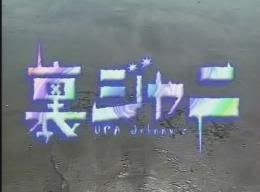 So, here it is. Some on mediafire and some on megaupload.
mandarinadesu
and
this_is_cd
uploaded some episodes, so thank them too!
Join with HJSplit.
And since it was so hard to pick only a few screencaps, I took 30 caps of each episode so you can see what you're downloading. And I'm really proud of myself for not making comments on the episodes [it would be the longest lj entry in history].
Credits: Clubbox and random sites [I really don't remember, sorry]
Ah, some of them have bad quality, the .wmw and .asf ones.
Missing episodes: 27, 31, 32, 34, 35, 37.
[Urajani 2004.04.06] Ep.01.mpg -
.001
.002
.003
.004
.005
|
caps
Mrs. Dewi [Subaru, Yoko]
[Urajani 2004.04.13] Ep.02.mpg -
.001
.002
.003
.004
.005
|
caps
Tights Mania [Yoko, Uchi]
[Urajani 2004.04.20] Ep.03.mpg -
.001
.002
.003
.004
|
caps
Dr. Nakamatsu [Subaru, Maru]
Matsuda Seiko Mania [Yoko, Uchi]
[Urajani 2004.04.27] Ep.04.mpg -
.001
.002
.003
.004
.005
|
caps
Accosting School [Maru, Yoko]
Bruce Lee Mania [Shingo, Yasu]
[Urajani 2004.05.04] Ep.05.mpg -
.001
.002
.003
.004
.005
|
caps
Pro Wrestling Mania [Subaru, Shingo, Yoko, Maru]
Princess Tenkou [Subaru, Ryo]
[Urajani 2004.05.11] Ep.06.asf -
full episode
|
caps
Pro Wrestling Mania [Shingo, Subaru, Yoko, Maru]
Cosplay [Yoko, Maru]
[Urajani 2004.05.18] Ep.07.avi -
full episode on MU
Uploaded by
mandarinadesu
[Urajani 2004.05.25] Ep.08.avi -
.001
.002
.003
.004
.005
|
caps
Osaka SP [Yasu, Ryo, Okura, Uchi]
[Urajani 2004.06.01] Ep.09.asf -
full episode
|
caps
Japan Pro Wrestling [Yoko, Maru]
Shibuya Fashion [Shingo, Okura]
[Urajani 2004.06.08] Ep.10.wmw -
full episose
|
caps
Foreign Actors [Yoko, Subaru, Maru]
Kikou Master [Yoko, Okura]
Ep. 10 Better quality -
full episode on MU
Uploaded by
mandarinadesu
[Urajani 2004.06.15] Ep.11.mpg -
.001
.002
.003
.004
.005
|
caps
Rain Spirits [Shingo, Maru, Subaru, Ryo]
[Urajani 2004.06.22] Ep.12.asf -
full episode
|
caps
Shibuya Girl [Yoko, Uchi]
Lolita Fashion [Subaru, Shingo, Okura]
Ep. 12 Better quality -
full episode on MU
Uploaded by
mandarinadesu
[Urajani 2004.06.29] ep.13.mpg -
.001
.002
.003
.004
.005
|
caps
Princess Club [Shingo, Subaru]
Anime cosplayer [Yoko,Uchi]
[Urajani 2004.07.06] Ep.14.wmw -
.001
.002
|
caps
Hypnosis [Yoko, Okura]
Divination [Yoko, Uchi]
[Urajani 2004.07.13] Ep.15.mpg -
.001
.002
.003
.004
|
caps
Girl Summary [Uchi, Yoko, Ryo, Shingo]
[Urajani 2004.07.20] Ep.16.avi -
.001
.002
|
caps
Galsa Gathering Tour [Yoko, Uchi, Ryo]
[Urajani 2004.07.27] Ep.17.avi -
.001
.002
|
caps
Sea [Uchi, Yoko, Subaru, Ryo]
[Urajani 2004.08.03] Ep.18.mpg -
.001
.002
003
.004
.005
|
caps
Mid Summer Spirits [Maru, Shingo, Yasu, Okura]
[Urajani 2004.08.10] Ep.19.avi -
.001
.002
|
caps
Japan Manbaism Project [Shingo, Ryo, Subaru]
[Urajani 2004.08.17] Ep.20.mpg -
.001
.002
.003
.004
.005
|
caps
Girl Mama's Summer Holiday [Yoko, Uchi]
[Urajani 2004.08.24] Ep.21.mpg -
.001
.002
.003
.004
.005
|
caps
Summer Girls Introspection [Ryo, Subaru, Yasu]
[Urajani 2004.08.31] Ep.22.mpg -
.001
.002
.003
.004
.005
|
caps
Girl Dictionary [Okura, Yoko, Uchi, Ryo, Subaru, Maru]
[Urajani 2004.09.07] Ep.23.avi -
full episode on MU
Uploaded by
this_is_cd
[Urajani 2004.09.14] Ep.24.asf -
full episode on MU
Uploaded by
this_is_cd
[Urajani 2004.09.22] Ep.25.avi -
.001
.002
.003
.004
|
caps
Divorced Women [Yoko, Uchi, Maru] with chinese subtitles
[Urajani 2004.09.28] Ep.26.asf -
full episode on MU
Uploaded by
mandarinadesu
[Urajani 2004.10.12] Ep.28.mpg -
.001
.002
.003
Love Faker B [Shingo, Subaru, Maru, Uchi]
[Urajani 2004.10.19] Ep.29 -
full episode on MU
Uploaded by
this_is_cd
[Urajani 2004.10.26] Ep.30.avi -
.001
.002
|
caps
Love Penalty [Subaru, Shingo, Uchi, Maru]
[Urajani 2004.11.16] Ep.33.asf -
full episode
|
caps
Celebrity love lies [Yoko, Yasu, Ryo, Okura]
[Urajani 2004.12.07] Ep.36.avi -
.001
.002
.003
.004
|
caps
Ueshima Ryuuhei [Yoko, Yasu]
Professional Idol Checking [Shingo, Uchi, Subaru, Maru]
[Urajani 2004.12.21] Ep.38.avi -
full episode on MU
Uploaded by
this_is_cd
[Urajani 2005.01.04] Ep.39.avi -
.001
.002
.003
.004
|
caps
Geinin SP [Okura, Uchi, Yasu, Yoko, Shingo, Subaru, Ryo, Maru] with chinese subtitles
[Urajani 2005.01.11] Ep.40.mpg -
.001
.002
.003
|
caps
Girls Body Measuring [Yoko, Subaru, Maru, Okura, Shingo, Uchi, Yasu]
[Urajani 2005.01.18] Ep.41.asf -
full episode
|
caps
Girl SP [Subaru, Maru, Yoko, Ryo, Uchi, Shingo, Yasu]
[Urajani 2005.01.25] Ep.42.mpg -
.001
.002
.003
.004
.005
|
caps
Diet in 6 Hours [Yoko, Maru, Uchi]
[Urajani 2005.02.01] Ep.43.avi -
.001
.002
.003
.004
.005
|
caps
100m Race [Ohkura, Ryo]
Elephant Taming [Shingo, Yasu]
[Urajani 2005.02.08] Ep.44.avi -
.001
.002
.003
.004
.005
|
caps
Spiderman [Yasu, Shingo, Okura]
100 People Convenient Store [Subaru, Okura]
[Urajani 2005.02.15] Ep.45.mpg -
.001
.002
.003
|
caps
Running from Police Dogs [Shingo, Maru, Yoko, Uchi, Yasu, Okura]
[Urajani 2005.02.22] Ep.46.mpg -
.001
.002
.003
|
caps
Anti-diet in 6 Hours [Maru, Uchi, Yoko]
Tiger [Shingo, Yasu]
[Urajani 2005.03.01] Ep.47.avi -
001
.002
.003
.004
.005
|
caps
Raw Material Fetching [Subaru, Maru, Ryo]
[Urajani 2005.03.08] Ep.48.avi -
001
002
003
004
005
|
caps
IQ [Shingo, Uchi, Okura]
Chinese Pan [Yoko, Uchi, Yasu]
Ep.48 better quality -
full episode on MU
Uploaded by
this_is_cd
[Urajani 2005.03.15] Ep.49.mpg -
.001
.002
.003
.004
|
caps
Running from Paparazzi [Subaru, Yoko, Maru, Okura, Ryo, Yasu, Uchi]
[Urajani 2005.03.22] Ep.50.avi -
.001
.002
.003
.004
|
caps
Exorcism [Uchi, Shingo]
Cross Dressing [Uchi, Yasu]
[Urajani 2005.03.29] Ep.51.avi -
.001
.002
.003
.004
|
caps
Osen Trip SP [Ryo, Subaru, Yoko, Okura]
Current Mood:

indescribable
Current Music: Love You Only 2004 - TOKIO